We Buy Cars (Even If You Don't Buy From Us)
Are you interested in trading in your current vehicle, or thinking about purchasing a new one, but unsure of the trade-in and buying process? Look no further because Audi Gainesville is here to help! Our expert team has the knowledge and skills to assist you. Not only do we sell cars, but we buy them as well.
The following information will give you a summary of the trade-in process, and what sort of benefits you can expect when taking advantage of the services we offer. Continue reading to explore our services.
We Want To Buy Your Car, Even If You Do Not Buy A Vehicle From Us.
You read that correctly - no car will be overlooked. Every car receives an offer. There are no limitations on mileage, age, or condition. There are no obligations either; once you receive your offer, the decision is completely up to you. The offer is not contingent upon you purchasing a car from us.
Online Resources to Take Advantage Of:
Our online appraising tool can supply you with estimates, but our specially trained staff will be able to take into consideration the exact condition of your vehicle. Our staff is also able to consider other variables that may be overlooked by a computer. If you are interested in purchasing a vehicle from us and trading in your current vehicle, feel free to start the buying process online from the comfort of your home. Just visit our new car inventory page found HERE and click on the red button labeled "CREATE MY DEAL" to start the buying process. While creating your deal, you can select the option to add a trade-in, and view an estimated offer for that vehicle. You can save your deal at any time during the process and visit our experienced staff to continue your trade-in or purchase.
Similarly, you can visit our online credit application found HERE and start the process of being approved for financing if you are interested in purchasing a vehicle from us. Filling this form out online will save you time when you come visit our dealership and speak with a staff member about making your purchase.
How Does The Trade-In Process Work?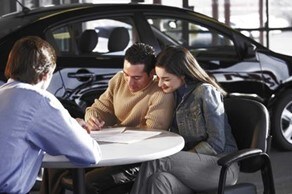 1.

       
Bring your car to our dealership. An appointment is recommended, 
but not required. You can fill out our online form 
HERE
or call us at 
with your vehicle title, a valid registration and driver's license, and 
any keys, remotes, or manuals that are connected to the vehicle. 
2.
Our expert team will then appraise your vehicle and you will receive your 
offer shortly. While waiting, feel free to browse our inventory or enjoy the 
free amenities we offer in our customer lounge.
3.
Once you receive your offer, it will be valid for seven days, given that there is no change in the condition of your vehicle during that time. You can decide to sell your car to us on the spot, or trade it in for a new vehicle. You can also sleep on the offer and get back to us before the seven day expiry period; the choice is yours and it is that easy!
We Offer Our Services To The Following Areas:
Gainesville, Alachua, Bradford County, Hawthorne, High Springs, Lake Butler, Newberry, Ocala and Starke.